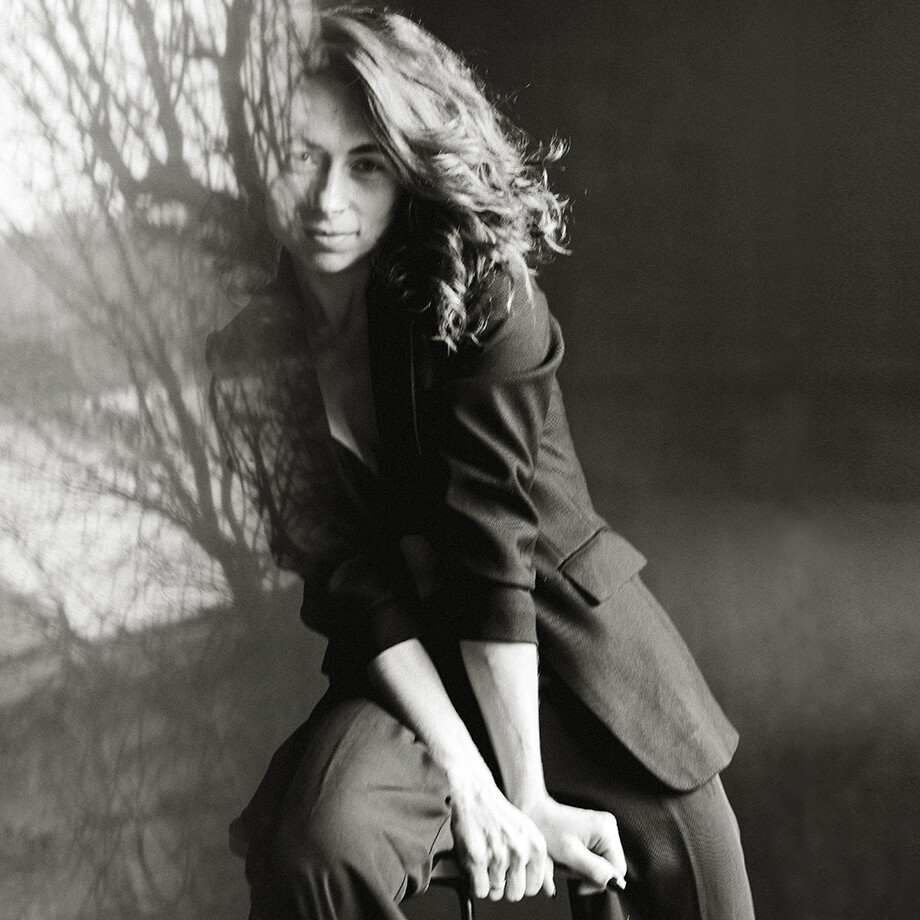 1990, MOSTYSKA / LVIV


GRADUATED FROM THE NATIONAL FORESTRY UNIVERSITY OF UKRAINE IN LVIV, DEPARTMENT OF DESIGN (2013). POSTGRADUATE STUDIES AT THE LVIV NATIONAL ACADEMY OF ARTS (2016).

HAS BEEN A MEMBER OF THE NATIONAL UNION OF ARTISTS OF UKRAINE SINCE 2017.

PARTICIPANT IN COLLECTIVE AND PERSONAL PROJECTS IN UKRAINE AND ABROAD.
WORKS IN SUCH AREAS AS PAINTING, EASEL AND EXPERIMENTAL GRAPHICS, INSTALLATION.
DEALS WITH PHENOMENOLOGY OF MEMORY, TRAUMA, IDENTITY.


PERSONAL EXHIBITIONS
2021"Common memory. Act of remembrance" within the international project Modernism for the Future, local residence in Lviv (installation, objects)
2020"lost presence" korsak's museum of ukrainian contemporary art, Lutsk (graphics, objects)
2018"amnesia" project "Triptych art" GALLERY, kyiv (Painting)
2018"lost presence" GALLERY DZYGA, LVIV (graphics, objects)
2017"shadow / body" GALLERY LNAM, LVIV (Painting)
2016"mandmade body" gallery "products", lviv, (experimental graphics, instalation)
2015"incarnation" gallery "green sofa", lviv, (painting, graphics)
GROUP EXHIBITIONS / PROJECTS
2023"UNBREAKABLE" UKRAINIAN INSTITUTE OF AMERICA, NEW YORK (USA)
2023"HORIZONS / ORIZZONTI" EX - ASILLO CIANI, LUGANO (SWITZERLAND)
2022EXHIBITION OF PARTICIPANTS OF THE "ISTAMBUL ARTIST RESIDENCY". PRESENTATION OF THE INSTALLATION WITHIN THE "HOME" PROJECT, AKARETLER 37/39, ISTANBUL (TURKEY)
2022 "RELATIVE SECURITY" PROJECT PRESENTATION WITHIN THE EXHIBITION OF MUHI 2021 PRIZE WINNERS: IN PROGRESS, UKRAINIAN CENTRE AT THE EMBASSY OF UKRAINE IN FRANCE, PARIS (FRANCE)
2022"RELATIVE SECURITY" IN THE FRAMEWORK OF THE POP UP THE WAR SERIES FROM THE IMAGINE POINT GALLERY, KYIV (UKRAINE)
2022"COMMON MEMORY. ACT OF REMEMBRANCE" WITHIN THE INTERNATIONAL PROJECT MODERNISM FOR THE FUTURE / KAUNAS 2022 – CULTURAL CAPITAL OF EUROPE, KAUNAS, (LITHUANIA)
2021Exhibition of the finalists of young Ukrainian artists 2021 competition, M17 Contemporary Art Center, Kyiv (UKRAINE)
2021"Wood / Paper ", Imagine Point gallery, Kyiv (UKRAINE)
2021Ukrainian project "Boundaries of reality", yearly international art exhibition NORDART 2021, Büdelsdorf (Germany)
2020"Is ritual equal to routine?" ART Svit Gallery, Dnipro (UKRAINE)
2020"Imprint. Ukrainian printed graphics of the XX - XXI centuries". Mystetskyi ARSENAL, KYIV (UKRAINE)
2019XII Florence Biennale, Fortezza da Basso, ST•H Gallery, Florence (Іtaty)
2019Second Biennale of Young Art "it seems I'm entering our garden", Contemporary Art Center "YermilovCenter", Kharkiv (UKRAINE)
2018"Contemporary Ukrainian Graphics at the turn of XX/XXI century" The Ukrainian Institute of Modern Art. Chicago, Illinois (USA)
2018"virtus", art salon "veles", lviv (UKRAINE)
2018PROJECT "STORAGE CAMERAS", "TRIPTYCH ART" GALLERY, kyiv, IN THE FRAMEWORK OF THE KYIV ART WEEK (UKRAINE)
2018ALL-UKRAINIAN EXHIBITION "SPRING SALON", LVIV (UKRAINE)
2018"Syniyi III" within the framework of the project "I 1 prdct" (UKRAINE)
2018"Love" gallery "Madam Palmgren", Lviv (UKRAINE)
2018exhibition of participants of the residence "Sorry, no rooms available" hotel "zakarpathia", Uzhhorod (UKRAINE)
2017"Modern ukrainian graphics" gallery "zvonimir", zagreb (croatia)
2017the festival of young artists of ukraine "Today that never happened", mystetskiy arsenal, kyiv (UKRAINE)
2017 "antroposphere" gallery "white world", kyiv (UKRAINE)
2016christmas exhibition, gallery "green sofa", lviv (UKRAINE)
2016international exhibition "autumn salon", lviv (UKRAINE)
2016international exhibition on within the framework of the artistic festival "Rawickie Mosty Sztuki", ravic (poland)
2016participant of the project "book", gallery "corridor", uzhhorod, art festival of love "march cats" (UKRAINE)
2015laureate of the international exhibition "autumn salon", lviv (UKRAINE)
2015international exhibition "autumn salon", lviv (UKRAINE)
2015all-ukrainian exhibition for the day of the artist, Exhibition halls of the National Union of Artists of Ukraine, kyiv (UKRAINE)
2015all-ukrainian triennale "graphics", Exhibition halls of the National Union of Artists of Ukraine, kyiv (UKRAINE)
2014christmas exhibition, gallery "green sofa", lviv (UKRAINE)
2014international exhibition "autumn salon", lviv (UKRAINE)
2013international exhibition "autumn salon", lviv (UKRAINE)
2012project "august meetings", lviv regional organisation union of artists of ukraine, lviv national museum "zhovkva castle", zhovkva (UKRAINE)
2012all-ukrainian exhibition "women's portrait", Exhibition halls of the National Union of Artists of Ukraine, kyiv (UKRAINE)
2011international exhibition "autumn salon", lviv (UKRAINE)
2008laureate OF THE COMPETITION OF THE AMATOR SHORT-CINEMA (1st PLACE) IN THE frame OF THE INTERNATIONAL FILM Festival kinolev, MUSEUM OF IDEAS, lviv (UKRAINE)